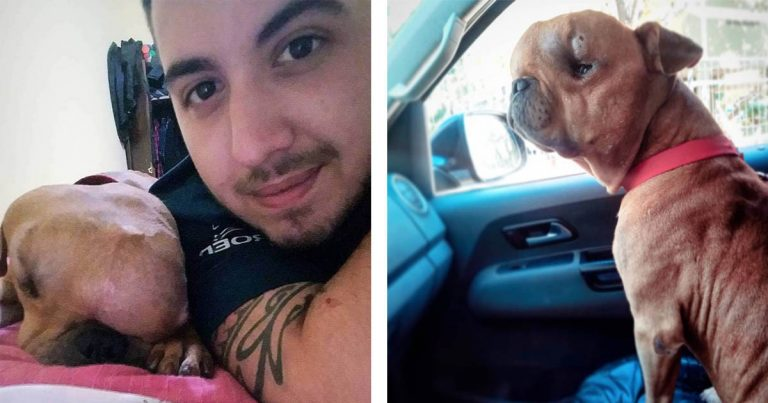 What a wonderful man. You have a heart of gold and you are this pup's hero! 💛
Beautiful young man with the biggest kind heart and compassion giving this precious dog so much love and care thank you for doing all you can to bring joy to this precious soul…! ❤️
Luciano Karosas, from Berazategui in Buenos Aires adopted a dog who only had a few weeks left to live, after the sick animal had already been rejected by four other families.
Thanos the dog, had a cancerous tumor growing on his head.
The sweet pup had sadly been given up by his family when taking care of him with his illness became too much for them.
Thanos ended up back at an animal shelter, which is where he met Luciano!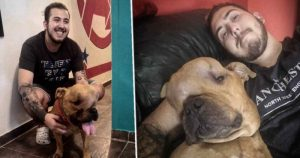 When Luciano met Thanos, he was touched by his story and he immediately wanted to take him home and fill his last days with unconditial love.
He took him to the vet to see if they could help him somehow.
Luciano said: I took him to a stem cell veterinarian to see what we could do, looking for a little more hope (he has left around 40 days of life) and told me that there is no treatment that extends that time.
Thank you for giving this precious baby love and comfort. ❤️😘
Since Luciano couldn't save Thanos, he vowed to make the most out of the time dog had left, with him.
He pampered Thanos and did everything he possibly could to make him comfortable and happy.
Sadly, Thanos passed away earlier this year!
What a truly kindhearted man he is to take this poor sick pup in, and show him the unconditional love that he should have had athrought his whole life. Even their short time together was an amazing gift to this dying fur baby! 🐾❤️❤️
Thank you for giving this sweet baby a home and unconditional love ❤️ so he wouldn't cross the 🌈 bridge in a shelter but surrounded by love. 🏡❤
God bless this amazing gentleman with such a tender heart. 🐾❤️🙏🙏🙏
Rest In Peace sweet baby! Enjoy your Angel Wings. 🧚‍♀️🌈🙏
Please share this touching story with your friends!