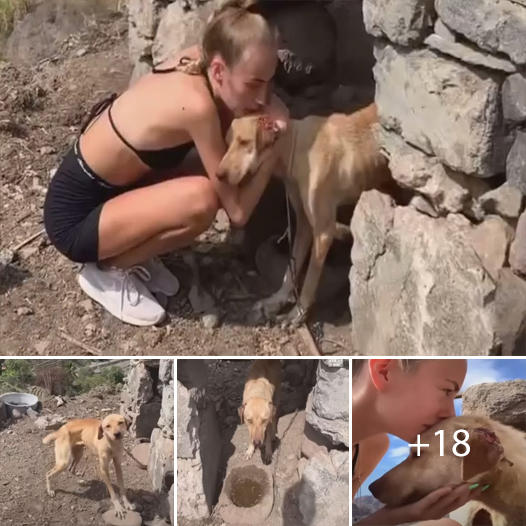 A Tale of Resilience and Love: The Story of Snow the Dog
As an animal lover, I have seen my fair share of neglected and abused animals, but Snow's case was one of the worst I had ever come across. Despite his tail swaggling with excitement, he was incredibly skinny, and his ears were bleeding. It was evident that he had been fed just enough to survive, and it broke my heart to see him in such a pitiful state.
I knew I couldn't just leave him behind. I made a promise to Snow right then and there that no matter what it took, I would do everything in my power to help him. The owner initially refused to let me adopt Snow, and I was devastated. I didn't know what to say or do because if the owner said no, I wouldn't be able to take Snow with me. I was overcome with emotion, and tears streamed down my face.
But then, something miraculous happened. The owner, seeing how much I loved Snow, took pity on me and said, "Okay, you can take him." I was overwhelmed with happiness and relief. I couldn't believe that I was finally going to be able to give Snow the loving home he deserved.
Bringing Snow home was just the beginning of our journey together. It was clear that he had experienced trauma and had been abused in the past. He would flinch when I raised my hand, but despite his past, he was still incredibly loving. Every morning, he would come into my room, wagging his tail, bringing me immeasurable joy.
With time and patience, Snow began to heal. He became calmer and more trusting. He was amazing with people and would shower everyone he met with unconditional love. It was evident that he was grateful for his new lease on life and the safety and security he now had.
Although Snow had passed his blood tests and was ready to travel to his forever home, unfortunately, no one came forward to adopt him. But I was convinced that anyone who met him would fall in love with him, just as I had. He had become my best friend, and I couldn't bear the thought of him not finding a loving home.
Snow's resilience and unwavering capacity to love despite his past inspired me every day. He had come so far from the emaciated, abused dog I first met. I decided to share his story on social media and with local animal rescue organizations in the hope of finding him a forever home.
And finally, after months of patiently waiting, the perfect family came forward to adopt Snow. They were captivated by his story and fell in love with him instantly, just as I had. It was a bittersweet moment as I said goodbye to my dear friend, but I knew he was going to a safe and loving forever home.
Reflecting on our journey together, I am filled with a sense of fulfillment and joy. I am grateful that I was able to make a difference in Snow's life and provide him with the love and care he deserved. Snow's story is a testament to the resilience of animals and the transformative power of love. It has taught me that no matter how dire a situation may seem, with compassion, determination, and a little bit of hope, miracles can happen, and lives can be changed for the better. Snow will always hold a special place in my heart, and I am grateful to have been a part of his incredible journey to find a safe and loving forever home.
Please LIKE and SHARE this story to your friends and family!