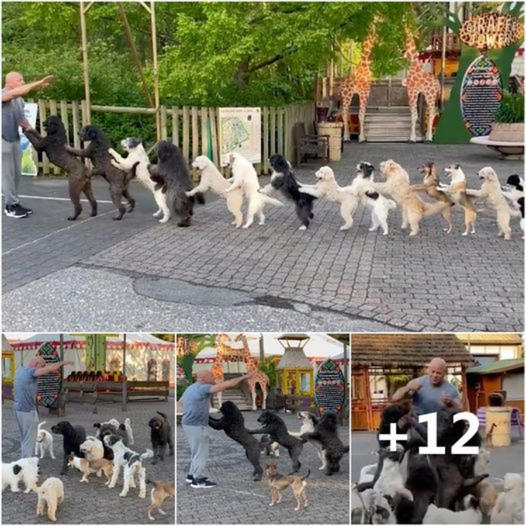 It's something unusual to see, but in Germany recently, a 14-dog conga line made its way around town
According to the Guinness World Records, German dog trainer Wolfgang Lauenburger broke the world record for most dogs in a conga line.
Lauenburger performed the act in Stuckenbrock on August 25, 2022.
It's hard enough to train dogs to do simple tasks, but teaching them to perform something as impressive as a conga line is a whole other level! Getting 14 dogs to be on the same page and participate is hard to fathom. Somehow, Lauenburger managed to pull it off though!
The dogs participating in the conga line included Emma, Filou, Fin, Simon, Susy, Maya, Ulf, Speck, Bibi, Katie, Jennifer, Elvis, Charly, and Cathy.
Guinness World Records shared a video of the impressive feat on Facebook so you can see it for yourself.
"Have you ever seen a more synchronized dog conga line?" they captioned the video:
The Guinness World Records revealed this isn't even the first record that Lauenburger has broken! They wrote, "Wolfgang and his daughter Alexa have achieved a number of records with their dogs. Alexa is the previous record-holder of this title, having achieved 9 in February 2022."