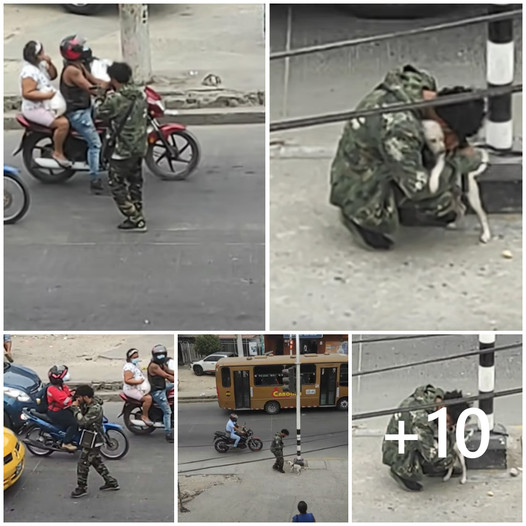 Anyone who owns a dog will understand that their kindness and affection know no bounds.
They are our best friends, our loyal companions through thick and thin, and they also extend their love to those they don't even know.
When Wara Ricoo looked out his apartment window in Colombia recently, he bore witness to one such case where canine affection made the day of a struggling street artist.
Wara noticed a man hustling for his living. In fact, he was out on the busy street, singing to passing cars, hoping for some money in exchange for keeping people entertained.
In spite of his efforts, the man wasn't having much luck.

When the traffic lights turned green, the performer returned to the side of the street, waiting for his chance to get back out on the road and hopefully earn a coin when the traffic was again stationary.
But when he stood on the pavement, he was no longer alone. In fact, he was approached by the happiest puppy you've ever seen, who bounded towards him and greeted him as if he was a long-lost relative.
It turns out that the dog belonged to the street performer. Wara was so touched by the exchange, that he decided to go down from his apartment and introduce himself to the performer, who he came to learn is called Anderson.

After chatting for a little while, Wara also learned that the beautiful dog in the video is called Mayte, and Anderson gets out there in the street in order to keep his pup fed and happy.
He was so touched by Anderson's story, that he decided he wanted to do something to help him get his life back on track. He started by offering to pay for a trip to the vet for Anderson, Mayte, and his other dog, Negrita.

Once both pups were given a clean bill of health, Wara decided that he wanted to go one step further to help the aspiring artist and his canine companions.
He shared Anderson's story on social media and booked him time in a recording studio, so he could begin sharing his music with an audience that wants to hear it, as opposed to passing cars that didn't give him the time of day.
Thanks to Wara's generosity, Anderson has now amassed thousands of followers on social media and is taking his music to the next level.
It's incredible to think that Anderson's embrace with his beautiful pup Mayte had the potential to transform his whole life.