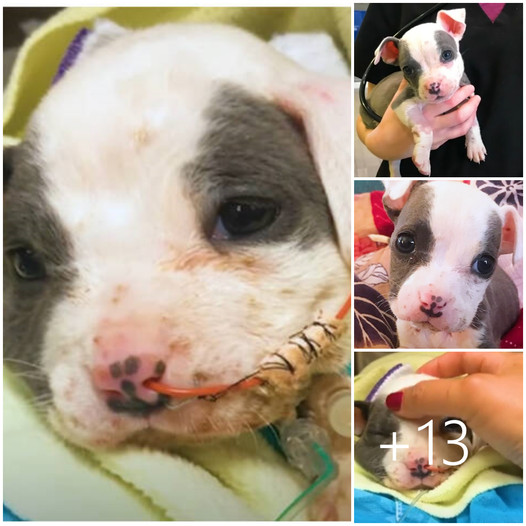 This heartwarming tale revolves around a tiny 2-pound Pitbull puppy, who faced abandonment at a construction site. Fortunately, Love Leo Rescue received a distress call and swiftly arrived to rescue the pup, who was in critical condition and desperately in need of help.
With compassionate hearts, they welcomed the puppy, named Carl, into their care, providing him with the best possible treatment. From the start, it was evident that Carl possessed a profound love for people, despite the hardships he had endured.
Remarkably, within a few days of being at the shelter, Carl began to show signs of improvement. His health started to stabilize, filling everyone's hearts with joy and hope for his future.
An even greater blessing awaited Carl when the time came for him to transition to a foster home. There, he had the opportunity to interact and play with numerous foster siblings, bringing immense happiness and brightness to his days.
But the story doesn't end there. Carl's journey took a delightful turn when a loving woman decided to open her heart and home to him, providing him with a forever family. Every day, Carl now accompanies his mother on walks to work, creating cherished moments and forging a deep bond.
Carl's sociable nature shines through as he effortlessly makes new friends along the way. His infectious joy and loving demeanor have not only enriched his own life but also touched the lives of those he encounters.
This heartwarming story serves as a reminder of the transformative power of love, compassion, and second chances. It is a testament to the resilience of animals and the profound impact that a caring community can have on their lives.
To share the touching journey of Carl, please watch the video below and pass it along to your relatives and friends. Let Carl's story inspire others to open their hearts and homes to animals in need, ensuring that more precious lives find their own happily ever after.