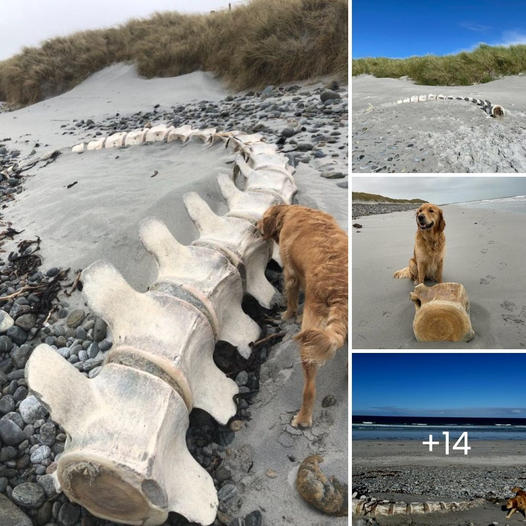 Bonnie is always thrilled to go on a walk with her human, Hannah Burns, but nothing could have prepared her for what awaited them on the beach one day.
The two of them had recently moved South Uist, an island in Scotland, and were exploring a nearby beach when they came across a gigantic skeleton. Seriously, this thing was massive. So much so that Hannah had to take a photo and send it to her sister, Polly Burns, who dove head first into figuring out what they had discovered.
"My sister has just moved to South Uist and has found this skeleton — anyone able to help with ID?" Polly asked on Twitter. "Golden retriever provided for scale."
After some helpful feedback and additional research, Polly and Hannah learned that earlier in the year, Uist Sea Tours wrote about this incredible find. Turns out, it was a 30 foot spine that belonged to an adult sperm whale.
Even though Hannah and Bonnie's discovery wasn't new, the spine itself isn't the reason their discovery blew up online. About a year after sharing this story on Twitter, someone shared it once more on Reddit, garnering nearly 40,000 reactions. Why? Because they were so excited that Bonnie had discovered "bone heaven!" Aka, every dog's dream!
"That dog can't believe its luck," one Reddit user wrote.
Another shared what they imagine was going through Bonnie's head when she first came across what has to be the biggest bone she's ever seen: "Hmmm. Going to be a challenge. But I know we can get this home. My driver is going to have to squeeze in tight."
While there's no way of actually knowing what Bonnie was thinking when she happened upon this massive treasure, Hannah can confidently confirm that she was "really excited," even when winter storms broke up the vertebrae and scattered the pieces across the beach.
"I've never really seen anything like that before," Hannah said. "I think at first she thought it was a big stick for her —she went near to it and realized it may have been a wee bit too big to pick up."