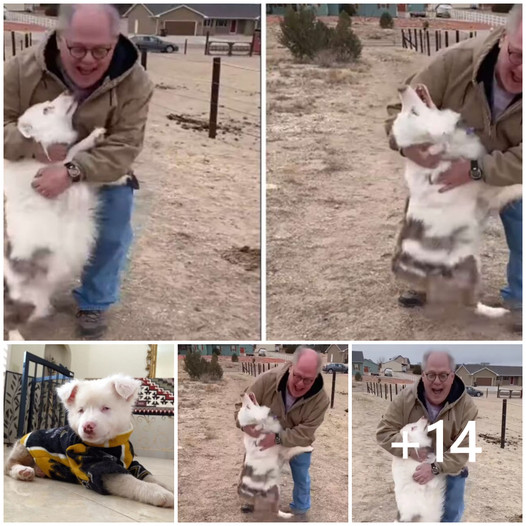 When Hayden Kristal brought Bitsy home five years ago, her dad, Steve, had some concerns. He worried about what kind of life the 5-week-old deaf and blind puppy would have, and whether she'd be able to get around on her own. But Steve's fears were erased as soon as he met the energetic, happy-go-lucky dog.
"She has been her own woman since day one," Kristal told The Dodo. "The first thing she did when I brought her home was to make a beeline for the food dish, crawl into it and eat until she passed out."Bitsy is far from the helpless dog her grandpa imagined. She's traveled all over the country with her mom — hiking, canoeing, riding the subway, and even skateboarding.
"Bitsy is the sweetest, friendliest, most loving, and loyal dog in the world," Kristal said. "She is bold and sassy and she loves adventure!"
Kristal's dad loves his granddog more than he could've ever imagined, and the two hang out together whenever they have the chance.

"He is her number one fan and her biggest champion," Kristal said. "He will tell anyone who will listen about what an amazing dog she is and how much he loves her. He does the typical grandpa things of spoiling her with treats and toys and she loves to just hang out near him."

But when COVID restrictions went into effect last year, Bitsy and her mom's life slowed down. Among the hardest changes for Kristal and Bitsy was that they had to be separated from family — including Kristal's dad.

Over a year later, Bitsy was finally able to join her grandpa for an emotional reunion:
After so long apart, Steve worried that Bitsy wouldn't remember him. But nothing could've been further from the truth. "As soon as I got within scent range, she totally lost her mind with joy," Steve Kristal wrote on Facebook. "So did I."

"Once again Bitsy proved that the abilities she has are far more impressive than the ones she's missing," he added. "What a truly amazing and wonderful soul. Maybe you can tell from this video how much we love each other."
Kristal knew all along that her faithful dog would never forget a person who cared so deeply for her. And the world looks a little brighter for everyone now that the family is together again.