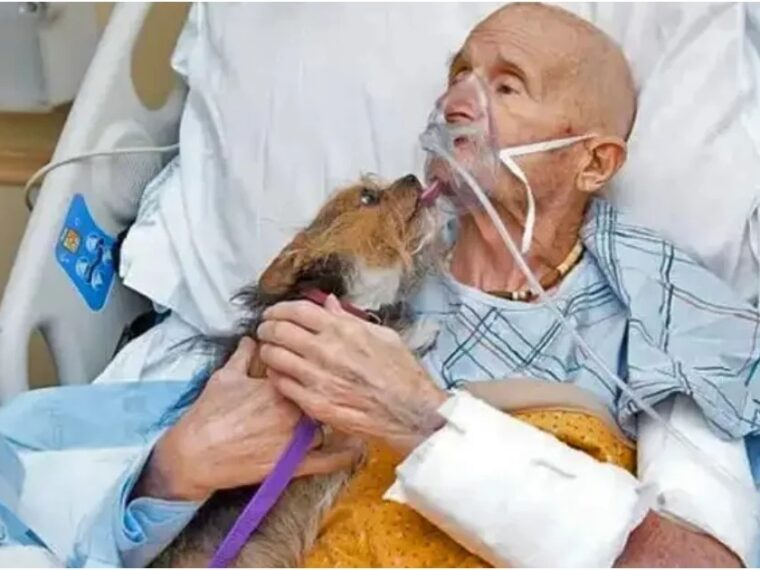 When a person knows it's almost time to say their final goodbye, they want to make sure it's done in front of people that are dearest to their heart.
That's what New Mexico resident and Veteran war veteran John Vincent did when he was told he only had a limited time to spend on Earth. He made sure he got to see his furry friend for one last time and to say his final goodbye.
When John first met his loyal dog, Patch.
As mentioned in the Albuquerque Journal, John was originally born in Montana and spent most of his childhood on a ranch. He then enlisted in the Marines at a young age and ended up serving the force for three years including the Vietnam war.
"I always went where the best went," he said while talking about his days in the military service.
Patch, a Yorkshire terrier, was given to him by a kind neighbor who had a dog that gave birth to a litter of adorable puppies.
"He was the smallest, and I wanted one that could ride on my bike. The only hair I had was on my chin, which was called a patch. … And he had a little white patch, so we were the patch brothers," the Vietnam war veteran explained.
Since then, the two would spend time riding in John's Harley motorcycle and Patch even had a pair of mini goggles. When John retired in New Mexico, the pair would often spend their night taking a walk outside.
Then the unexpected happened.
John and Patch lived together for years and there was nothing more that they could've asked for but time. Due to his age and failing health, John was eventually taken to the hospice center and that also meant separation from his beloved dog.
He had to surrender the then five-year-old Patch to Albuquerque Animal Welfare. Unfortunately, it had to be done because of his deteriorating health. But when he was told he didn't have much time left, John made a special request – to see Patch for one last time.
It's a request that the social workers in the hospice center didn't decline, so they did everything to make it happen. The much-awaited reunion.
John's wish of seeing Patch for the last time came true. The animal shelter brought the dog to the hospice center at Raymond G. Murphy VA Medical Center to make the reunion happen. "Yeah, that's me. That's daddy," John said right when Patch jumреd on his lap to give him kisses. "Are you happy to see me? I'm so happy to see you." Everyone involved in the reunion was happy to see John and Patch see each other again.