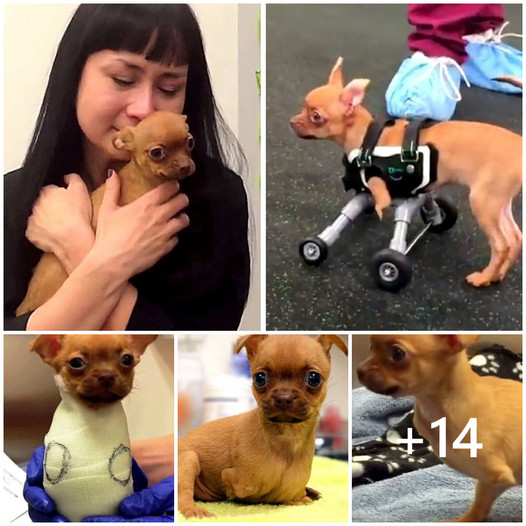 Daffodil the Chihuahua was left in a cardboard box after her owner discovered that she had been delivered without her front legs. For days and days, she was left crying because the cardboard box was soaking wet on the streets of San Francisco.
People would definitely see the "adorable puppy" and pick her out, but make a disgusted face and put her back in when they saw her birth defect.

When a young man discovered Daffodil's plight, he immediately picked her up and took her to the local animal shelter. At first, the staff was skeptical that the young pup would survive.
However, within days of receiving love and care, Daffodil turned into a very affectionate and frisky young puppy! This adorable little girl had no idea she was disabled and just wanted to be adored by her owners!
The staff was touched by Daffodil's spirited behavior and decided to overlook her shortcomings and give her a chance at life.

They also used unique actors to get the measurements of the puppy to get his custom wheelchair!
In this video, we witness Daffodil's memorable first outing in her little wheelchair. She stumbles and falls, but there is no turning back when she gets up again.

What a champ! The SPCA have actually also upgraded that Olivia, among Daffodil's caretakers, has come forward to be the spunky girl's permanent mom! Daffodil is loving her days as mommy's little princess!
Click the video clip listed above to see Daffodil's tear-jerking tale and her journey toward finding her own happy ending.
If you love this story, please share it with your friends and family members!