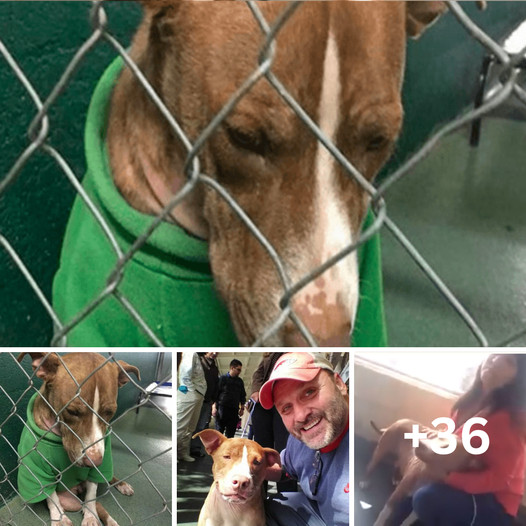 A dog named Bobby was surrendered to Miami Dade Animal Services, and soon melted the hearts of the volunteers and bonded with them.
Unfortunately, this didn't mean Bobby was immediately adopted. In fact, after only two months at Miami Dade Animal Services, things were looking very grim for him. That's because he was placed on the list no animal wants to be on: the code red list.
However, Bobby's luck was about to change, thanks to social media. A photo of him wearing a Christmas sweater was posted online. But Bobby's expression stood out in stark contrast to the festive sweater — he looked depressed and heartbroken.
The volunteers who worked with him hoped that this picture would lead to a miracle — that Bobby's life would be saved.
The caption on the photo was heart-wrenching as well. It urged viewers of the photo to do the right thing, because if they didn't, then Bobby would die.
To sweeten the deal, Miami Dade Animal Services was willing to help pay for Bobby's adoption fees. They just needed someone to provide him his new home…
Which someone did!
Immediately, there was a flood of support. Many people wanted to save him — and fast. One of those people was Robert Miller. When he saw Bobby's sweet, sad face, he knew he had to step in.
Robert works for a local rescue group, and so he knows firsthand what happens to pups like Bobby if they are unable to be placed with a new family.
But another shelter volunteer named Paola beat Robert to the punch! By the time he arrived at the shelter, Bobby had been swooped up by his new mother and taken to the vet's office to get checked out. There, he received treatment for a few minor issues.
Paola has vowed to make Bobby's life so much better than it has been. She knew that a post like Bobby's would bring out a lot of good people — and some bad people, too. That's why she wanted to get to Bobby as soon as she could.
No dog deserves to spend the holidays alone. We are so happy that Bobby is getting a second chance, and that he's finally found his forever home.