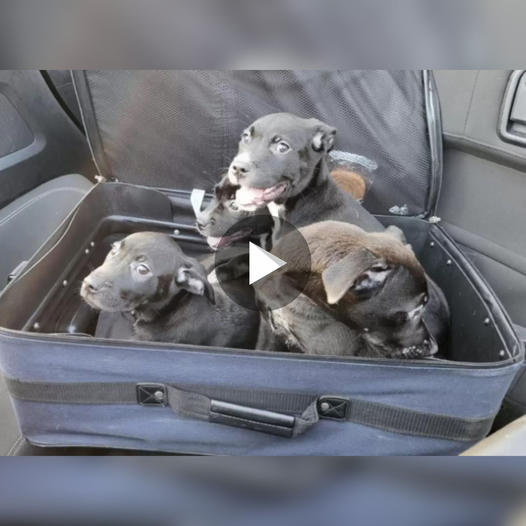 Last week, a couple was driving down a North Carolina highway when they noticed something strange. There was a discarded suitcase on the road ahead, and it appeared to be moving.
They noticed it as soon as they slowed down: a little nose just barely peeking out from the unzipped corner of the bag. Following a swift opening of the suitcase, they discovered four lovable puppies inside.
Following the capture of the puppies, the pair went to the Guilford County Animal Services. One shelter staff member initially didn't believe them when they claimed to have found a bag full of puppies in the parking lot. So absurd. It took me a while to notice the four young faces, though.
"We all expressed disbelief that someone would do that," the staff member told The Dodo.
Puppies, all of whom are females, did not feel secure in their new caregivers, possibly for fear that they would also be abandoned by outsiders. As they have adapted to their new lives at the shelter, the shelter's team has shown them what love is all about.
Adding to the shelter representative's statements, "They are quite shy and scared. I am connecting and playing with them because the medical team says they have not experienced much human interaction."
Travel-related names of some of the pups include Tami, Samsonite, Stowaway, and Carion (as in "carry on").
Upon completing the necessary medical examinations and screenings, the puppies will be placed for adoption and given a chance to find their forever families.
Even though these puppies were abandoned, they will never have to fear being abandoned again, thanks to the quick eyes of two good Samaritans.